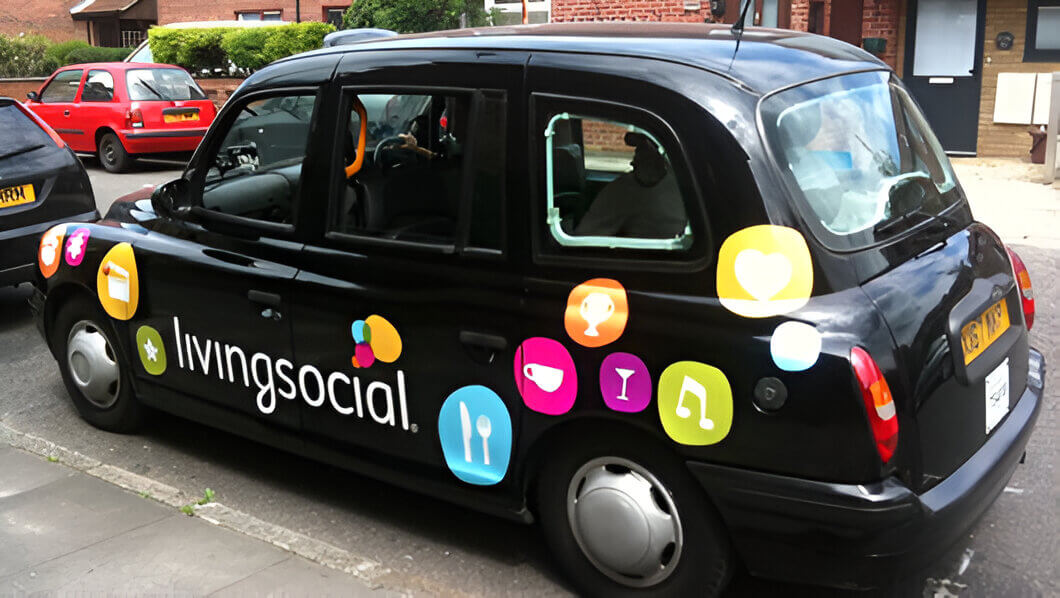 LivingSocial Taxi
Now this was fun ...
So
Mind's Eye Media
call us and say they need to fit a TV screen in a taxi along with a live camera feed of the driver. Easy. But they also need the driver to be able to press a button and play a video clip to the passengers on the TV. Oh, and when the passengers get in he needs to be able to hit another button and a fanfare plays ... and maybe some neon lights around thewindows light up, and wouldn't it be good if the inside roof comes alive like a disco dance floor. Did we say this all needs to be operated by the driver? Whilst driving? Oh yeah, and when all that's over the screen can just go back to the clients logo. And all this needs to be run from the car battery. And we'll be shooting in central London for 2 solid days, so no chance to re-charge batteries throughout the day ...
[Okay, to be fair to Mind's Eye that wasn't exactly how it was put, but that's how it evolved over a few days! :-]
So, we started with a simple 4 push-button control box with big switches that the driver (later to be known as Ray) could press and feel which one to activate without the need to actually take his eyes off the road. (Safety First!) Those four buttons were connected to a magic box containing all sorts of electronic mayhem. The magic box then connected to a panasonic video mixing console that we modified to be 'remote controlled' - this handled the video switching to the LCD screen that the passengers watched.

The magic box also fed signals to two laptops, one wirelessly and the other via USB. These took care of the video sequence playback and thefanfare and lighting timing. There was also a small media playback unit that fed the still image to the screen.
We added a small 5" comfort monitor so Ray could see that everything was running smoothly.
All of this along with a video splitter and VGA to video scaler were set-up in the front of the cab running from a 1000W inverter connected directly to the car battery. Actually 1000W wasn't quite enough so we had to run one of the laptops from it's own car adaptor as well!
In the boot of the cab connected by a couple of signal cables to the front of the taxi was another 500W inverter, a car battery, an DMX lighting controller, a special in-house made remote controlled mains switch and a control box for an LED star cloth! These when triggered by the system in the front of the cab created the light show for the passengers to enjoy!
Easy ....
The install took just over a day and was done in a spare corner of a taxi garage in Bethnal Green.
We were lucky to have the help of Craig Sparkes (proper nice bloke!) who done a fantastic job on the installing the starcloth behind a sheet of smoked perspex that he cut to the exact shape of the roof and also fitted the LCD screen into perspex behind the driver seat.
Apart from a little mishap with an overloaded inverter that went pop, the install went smoothly and on the second day of the install Nick at
Minicams
installed the 4 cameras providing us with the video feed of the driver.
The next two dayswere great fun! Sending Ray in hiscab to pick up unsuspecting punters, surprise them with a light show, spin them some happy cabby banter, and offer them a unique chance to experience a Living Social one time offer! Ray was great. It turns out he's a proper pro with 30 years of TV experience! If you see a taxi on telly, lookcarefully, it might be Ray! Above all he was a really nice guy and great to work with :-)
So while Ray worked the streets of London (not sure that's the best phrase, but you know what I mean), Nick, Craig and Myself chased him round in the support van in case any technical issues needed fixing. Nick looked after the in-car cameras, I looked after the video and lighting and Craig provided the his 'creative driving' skills - some of it I am sure was legal. Through traffic jams and gay pride marches the van was always near-by.
At the same time the others guys and gals in the other unit were filming punters enjoying their experience that Ray had delivered them to. A carefully planned and perfectly executed ballet with everyone and everything working in the right place at the right time.


THANKS
Thanks you very much to Anna Sheldrake who recommended us to Minds Eye. Thanks to all at Mind's Eye for believing Anna ... (Fools!), Thanks to Craig Sparkes for all his help, OCD dedication, mad driving skills and witty banter?. And thanks to Ray for making my life easier by 'flying' the controls so very well. I really enjoyed those few days and loved working with everyone. Lets do it again one day ...
Credits - Some of our recent projects ...

---