The UK's Largest Collection of WORKING Retro TV's & Monitors!
Retro CRT Videowall Specialists
Pure Energy TV & Film Props is a prop house specialising in retro props and technical props for film, TV and events. From toys to computers we have a great range that can add that special detail to any set.
Email us at:
Retro TV Stack Installation
We have supplied similar TV stacks to Festifeel, Kurt Geiger, BBC Doctor Who, MTV, Tommy Hilfiger, BBC Children in Need. We can use a range of consumer televisions from the 60s, 70s, 80s and 90s to create a stack of screens. The screens can all work and be fed from media players or DVD players. www.TVFilmProps.co.uk
CRT Video Wall - Synchronised Video Playback for Vintage Screens and Televisions
Pure Energy are the UKs largest supplier of vintage and retro CRT video walls. We can build CRT video walls from just 4 screens up to huge video walls using hundreds of screens. We have worked on many events, TV programmes and feature films and know how to make the installation work for you both technically and aesthetically. Our video playback system for retro CRT televisions and monitor screens offers multiple channels of SD footage that can by sync'd together to playout under the control of a master control system. All channels are genlocked together specifically for filming purposes. Outputs can also feed modern LCD screens using HDMI if required. More Info : https://www.TVFilmProps.co.uk
We have hundreds of vintage televisions and CRT video monitors that are working and can be made to display content of your choice and we specialise in retro TV stacks, CRT video walls and practical vintage television installations.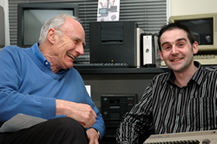 Not only have we the props, but we know loads about them as well. If you want advice on which tech props are most suitable, which props fit the era - or even need someone to wax lyrical on camera - we have the passion, the enthusiasm and expertise to make that unique addition to your production.
We specialise in televisions, computers, gadgets, toys, games, mobile phones, hi-fi, music, electrical and general electronics ... We're a bunch of geeks that loved and lived in the 60's, 70's, 80's and 90's and have hoarded everything we picked up along the way !!