Pure Energy supplied all of the computers, televisions and video cameras for this amazing picture in the 20th Anniversary edition of Shots Magazine.

The image was for an interview with Sir John Hegarty, chairman and executive creative director of Bartle Bogle Hegarty (BBN).
We worked for
Anna Burns
who did the set design. The photographer was Steve Harries @ East Photographic.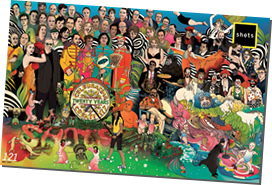 The set design was complex with all of the screens directly connected to some form of video camera, be it webcam, consumer handycam or professional DVCAM. We used a range of technology from the latest Sony handycams back to the oldest Apple Macintosh, now over 25 years old ... and still working!
There were many challenging issues for our technical to overcome, all involving interfacing new and old technology and different video standards. We had to employ various tricks / techniques such as using old video recorders to convert composite video signal into a UHF feed for the oldest TV's. We even used a small UHF transmitter to broadcast a feed to the tiny portable TV at John Hegarty's feet! Vision mixers were used to adjust the levels for feeding a live video into vintage computer monitors. Old laptops and special software were used to get full screen pictures from USB webcams onto the large VGA screens.

The set was created in one day, with an additional half day for alterations and remixes! It was quite a technical achievement for us ... and a huge amount of fun!
We would like to thank Anna Burns for the chance to work on this project and Steve Harries for making it look so fantastic.
Date : March 2010