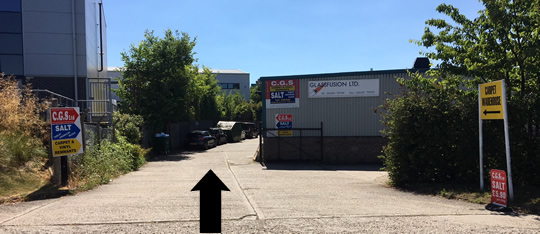 How to Find Us
We're hidden away and don't promote ourselves locally, so please look for CGS Carpet Warehouse and we are next door to them. In fact we share the same warehouse.
Our full address is :
We're at the Vauxhall garage end of Hollands Road on the industrial estate.
When you've found CGS drive down to the left of the building (pictured above). We are the 4th set of roller shutter doors on the right hand side. Just park up directly outside. If the roller shutter doors are closed used the door just to the right of them. You'll be walking into a warehouse full of carpets! Don't Panic! We're in the back right corner of the warehouse! Just look for the big piles of monitor screens :)
If you are having trouble finding us call 01440 709794 or 07976 774905 (Jason)
Now you know why we call it the secret hideout!
See you soon ...